What Everybody Should Know About Buying A Used RV
Free manual - no email address required.
"Discover How YOU can Inspect a Used RV"... just like the pro's do ...
If you think you know all there is to know about buying a used RV ... then you do not need to read any further. You will be wasting your time. Just go out and buy that RV.
But Why would you try to do it yourself when you can get expert advice from a certified RV repair technician?
Get yourself "armed and dangerous".
This guide will teach you exactly what to look for and especially what to look out for when shopping for a used RV.
For example: Can you see the telltale flaw in this used fifthwheel?
If you answered "yes" you have a pretty good eye.
This RV looks pretty solid, but lets take a closer look!
This fifthwheel has a small delaminated area just above the midpoint of the fender skirt ... see the small bulge there? That indicates that de-lamination has started and will lead to further problems down the road. See anything else?
The large bulge in the siding between the awning arm and the fender skirt shows that the entire last third of this wall has suffered de-lamination to a major extent. All of the strength of this wall has been destroyed and the cost of repairing this damage would exceed the value of this older fifthwheel.
The very best time to discover the faults of an RV is before you buy it!
Here's how it goes ...
You've decided to buy an RV!
An exciting time, to be sure. Armed with the local classified ads, you head out to find your dream machine. You check out two or three and then ... there it is ... the perfect RV for you ... The right floor plan, the most attractive decor and it just feels right!
But ...before you plunk down your cash, check every item in this RV Buyers Guide.
If the RV passes all tests and the price is right - CONGRATULATIONS - you have found a gem.
The Greatest Gold-Mine Of "How to Buy A Used RV" Advice Ever Crammed Into One Product
Buying a Pre-loved RV is an exciting experience, while at the same time, it can be a frustrating and ultimately expensive proposition. The purchase of a "new-to-you" recreational vehicle is an out and out thrill. Whether it is your first, your fifth, or your final one, the grandeur of having a "Castle of the Road" is a feeling that compares to being a Gypsy, a nomad, a frontiersman, one who knows no bounds and will travel where no man or RV has gone before. Many dreams and hard earned dollars have become part of your escape from our everyday problems and cares.
BUT, those dreams and dollars need down-to-Earth vision and "hands on" information.
This RV Buyer's Manual shows you:
The insider secrets of RV inspection
The Truth About How To Buy A Used Rv. Proven Tips, Tools and Tactics To Buy A Used Rv
Step by step road map to the selection of a trouble free used RV. How to spot problems before you buy!
What-to-look for and especially what to look-out for!
Download over the Internet - get yours instantly!
This guide was written by your webmaster, Les Doll, a working Certified RV technician, with years of RV construction and maintenance experience. In this guide you will find many little-known secrets and methods used by professional buyers to evaluate a used RV.
Guide to Buying a Used RV
This is NOT an outdated printed manual and no paper edition will be mailed to you.
Download your Buyers Guide immediately!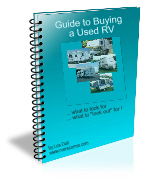 Exclusive Website Offer - Now FREE
Note: The image above is a digital ebook cover. You will get a "downloadable" digital (PDF) copy not a physical product mailed out in the post. Just wanna clarify that. :-)
Click here for your free Guide to Buying a Used RV
&nbsp
&nbsp